Games: UFC Poker is a new poker room, having launched in November 2009. Due to this and the fact that they use their own software, the only games they currently offer are Texas Holdem and Royal Holdem. UFC Poker room is a free online poker website where you play only with play money, so they do not have any cash games, or even any play money cash games. All UFC Poker has are single table tournaments and multi table tournaments.
Special Features: UFC Poker Room is a free online poker room, where you don't have to deposit any money to play. Although you are only playing for free, you have the opportunity to win a variety of prizes, including cash, Tapout Gift Certificates, a variety of UFC merchandise and even tickets to UFC events. There isn't a lot of players at the tables, so you have a very good chance of winning these prizes even if you're not too good a poker player.
It will take at least a month for you to receive any prizes that you win.
---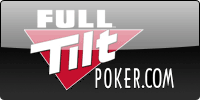 Play For Real Money at Full Tilt Poker:
Full Tilt Poker is the premiere online poker room for all online poker players. Featuring free tournaments, huge freerolls, a $600 free signup bonus for all new players and some great rewards and promotions.
You can also play with the pros at Full Tilt. Players like Phil Ivey, Gus Hansen and Tom "durrr" Dwan are just three of a ton of professional poker players that play at the Full Tilt Poker tables.
---
Software Features: The UFC Poker Room software is fairly simple to use - it has a tournament lobby with a list of the tournaments, and you "check-in" for each tournament then wait for them to start. During that period you have to watch video advertisements however, and you will find that there is a lot of advertisements during the game, with banners below the table and to the right of the table, so it can be very distracting. The table window is also very large and not resizeable, making multi-tabling pretty much impossible.
Promotions: UFC Poker offers a variety of prizes for the player. As it is all free money they do not have any sort of signup bonus or special bonus, however they do offer the chance to win up to $100,000 in cash and prizes every month, where you can win UFC merchandise, tapout gear etc.
Rewards: UFC Poker has an interesting rewards program to get more points to play at the tables. You start off with 1500 points, then to get more points you have to do a variety of things, like participate in surveys, do daily trivia, refer friends and enter special promo codes that you get e-mailed to you.
Support: UFC Poker offers customer service via e-mail. In tests we conducted we found them very responsive and knowledgable.