Before we go any further we have to warn you - Red Cherry Poker is not safe for work. If you're at work we recommend not visiting their site or even clicking the screenshots above. If you're not at work - hey, feel free to go see some naked ladies.
Games: Red Cherry Poker runs all of your favorite poker games, including Texas Hold'em, Omaha and 7 Card Stud. You can find games running pretty much all the time, especially during European prime time. There are also tournaments and SNGs running around the clock.
Special Features: Alright - where do we begin? Red Cherry Poker is like no other online poker room. They've did something that I am surprised I haven't seen until now - mixing poker and pornography. The second you visit their homepage, you are greeted by multiple naked ladies. They offer different things like Cherry of the Day which is a new naked lady a day - and if you are a registered user you get to see more than one picture.
Then there's the poker table itself. The avatars/characters - usually you'll get the choice of players of different sexes, from various races. Maybe a few Doyle Brunson lookalikes, and a character with headphones and sunglasses on. Yeah. At Red Cherry Poker, it's naked ladies, naked ladies and more naked ladies.
As you can imagine, this type of room can attract a lot of fish, a lot of bad players, and hell it's just going to be downright distracting, so if you can ignore lots and lots of boobs, you're going to clean up at the tables.
If you like free money, the tournaments in this site tend to have a lot of overlay, giving you added value for playing in their events. Red Cherry Poker also has a refer-a-friend program that can earn you a little extra just for getting your friends to play on the site. And believe me - with a homepage like this, your friends are going to sign up.
Software Features: Red Cherry Poker's software offers a lot of player tracking features that make it easy to find the juiciest fish out there and take advantage of them. There are hand histories, buddy lists, lobby filters and even a player search, all of which you can use to find exactly the games and players you want. Tables can also be resized to make them fit your screen better when multitabling.
Red Cherry also has a no dowload client so you can play in your web browser. Mac and Apple users - enjoy!
I also really have to say - never has the statement "a picture is worth a thousand words" been more accurate. I am fairly certain I could just post the below picture without any words, and that's enough of a review for you: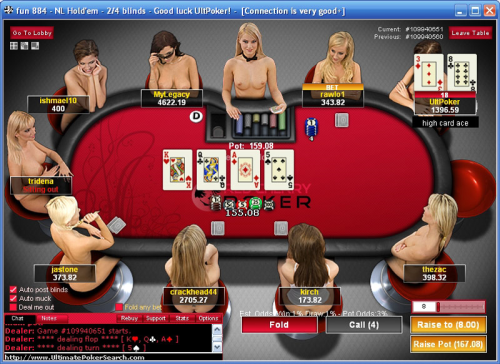 Promotions: Red Cherry Poker has a great deposit bonus for first time players. You can earn up to 300% on your first deposit, with a maximum bonus of $500!
Rakeback/Rewards: At Red Cherry Poker, you can earn points - appropriately named Red Cherry Points - by playing raked hands or paying tournament fees. You can use those points to enter freeroll tournaments, or use the points to earn adult-themed rewards, like gift certificates at clubs, resorts, brothels and adult stores online and around the world!
Yeah. That's right. Play at this poker room, and you get rewarded by trips to brothels. Really. They also run regular rake races, as well as promotions where you submit pictures of your naked girlfriend and win $50. Really. Check it all out for yourself.
Support: Red Cherry Poker has 24/7 support available by email, as well as a live chat feature that can answer more urgent questions.